Equipping and Empowering
By Rachel Dick
In the midst of a sexually-charged society, teens today are met with countless voices telling them that sex is a perfectly natural part of adolescence. Knowing that and thinking about the Creating Positive Relationships program, I began wondering about teens who had made the decision to have sex before encountering CPR. What would sitting under CPR's teachings feel like? Would these teens still be reachable by CPR or would they simply fly under the radar and continue doing what they're doing?
Thanks to this project I've been working on, I had the opportunity to talk with Luke, a third year college student majoring in Political Science, who fell into this category.
Luke, whose name has been changed to protect his privacy, encountered CPR during health class his junior year of high school. Luke's honesty in conveying to me that he'd had sex with his girlfriend before meeting CPR had me intrigued to hear how he responded to CPR's message.
Luke told me that, after having sex with his girlfriend, he began feeling guilty.
"[My guilt] was really taking its toll."
You see, Luke's grandma had his mom when she was only fifteen years old. Being raised by his own single mother for much of his adolescence, Luke's family always placed a high emphasis on making a better future for Luke. Learning this, I was able to see why he felt such guilt following the choices he'd made.
"I felt like I betrayed my mom and grandma and I felt nervous about the risk I was presenting myself emotionally, physically, and for my future goals."
So what could CPR have said to help Luke navigate through this guilt? Wouldn't a curriculum that advocates abstinence only deepen Luke's guilt?
For Luke, absolutely not.
Luke told me that the first day a CPR instructor came to his class, he felt compelled to stay and talk with her after class for over an hour. He told me that the first thing she advised him to do was to talk to his mom about what had happened as he'd kept this secret to himself for over a year. Though he was hesitant, Luke listened to the CPR's instructor's advice.
"When I talked to my mom, I sat down with her and just told her that I had had sex with my girlfriend. We both cried and she told me that she was not angry with me and was glad that I finally told her. This was a big moment in our relationship."
Knowing Luke's guilt began to melt away, I wondered what else CPR had to offer a teen like Luke. Because he'd already had sex and felt the repercussions from it, what else did he need to learn from CPR?
Before CPR, Luke's relationships were solely based on attraction and popularity.
"Looking back, there were all kinds of issues including immaturity, emotional distress, and jealousy that really defined [my] relationships."
Luke showed me that CPR went on to teach him valuable tools to use when approaching future relationships, equipping him to make better choices. Learning to tell the difference between infatuation and a genuine attraction and interest in a person, CPR placed the power in Luke's hands as he realized that he was in control of who he pursued and for what reasons.
Through his own experiences, Luke knew what he didn't want in a relationship: to be intimate before he was truly ready. Luke learned how to approach future relationships in order to establish a firm foundation.
"I did not talk openly about my limits sexually or my worries and parameters of a relationship before CPR taught me the importance of communication."
Luke found these lessons to be so impactful that he went on to become a panel speaker where he encouraged teens to make the same pledge he did.
Now, Luke is a busy college student involved in a fraternity. He writes for the student newspaper; he founded a local chapter of an organization that works to end poverty in third world countries; and is a member of College Republicans. Despite everything he has going for himself, though, Luke took the time to talk honestly with me because he still holds fast to his commitment to CPR.
In ending my interview with Luke, I asked him what one piece of advice he'd want to give to any teenager struggling to make the commitment he did. In ending the final post in this project, I'll leave you readers with his words of wisdom.
"You will come across so many things in pop culture, in school, even from your own friends, that all promote pre-marital sex. But this does not have to be your path. It's okay, in fact it's so much better for you, to not engage in sex at this age and without commitment. If you take this sacrifice and pledge seriously, your life, your relationships, and your future spouse will all be for the better and it'll be worth it."
For teens: whether you're looking for reinforcement to what your parents have already told you like Katie, looking for healthier friendships in your life like Michael, or you're looking for a second chance to make more informed decisions like Luke, CPR can help. If you're not a teen, I hope you can see the impact that being open and honest with teens about things like relationships and sex can have on young people.
Through this project, I've seen the many different ways CPR has and continues to impact students. Creating Positive Relationships provides lessons for teens that reinforce, encourage, and empower teenagers to go against the current, to say no to what society tells them to do and instead make informed decisions about the relationships in their lives.
I personally want to thank CPR for taking the time to create a program that reinforces, impacts, and empowers students to make healthy choices in relationships. Teaching teens to think before they act is a skill that will inform so many future choices in their lives, beyond forming relationships, which will only work to make this world a better place, one teen at a time.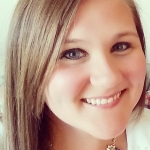 Rachel Dick is CPR's guest blogger this spring. Originally from Rensselaer, IN, Rachel now lives in Indianapolis with her husband, Steve. She is expecting their first child in August and plans to graduate from IUPUI in May.